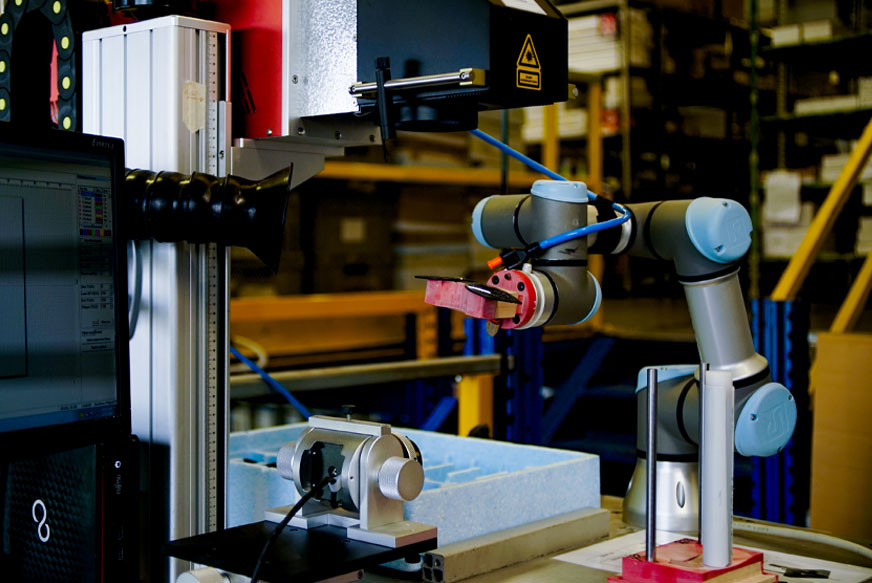 LEM Optical chooses Universal Robots cobots for its processes
Robotics and automation are now a consolidated reality in many manufacturing companies, vital tools to guarantee quality and productivity and improve ergonomics for line workers. Over the years, LEM has moved decisively down the process automation path with the introduction of increasingly complex technologies: automated machining centers, injection molding machines, 3D and digital printing, 4.0 production systems, laser technology for etching and esthetic treatments. Most recently, it has integrated collaborative robotics into its production.
A fleet of 5 Universal Robots collaborative robots (or cobots) has now been installed to handle a variety of tasks on the production lines: laser etching, glue dispensing, injection molding machine tending.
"Collaborative robotics have a dual function," explains company partner Stefano Lodigiani. "On one hand they allow us to execute a series of specific operations (laser etching or glue dispensing on ski masks) with a repeatability and precision that could not be guaranteed manually. On the other, for example in injection molding machine tending, cobots free operators from strenuous work with low added value such as molding mask loading and unloading. For LEM, the introduction of each new technology is an opportunity to improve its processes, products and conditions for our workers. The UR cobots meet these requirements in full."